24 Jun

Thailand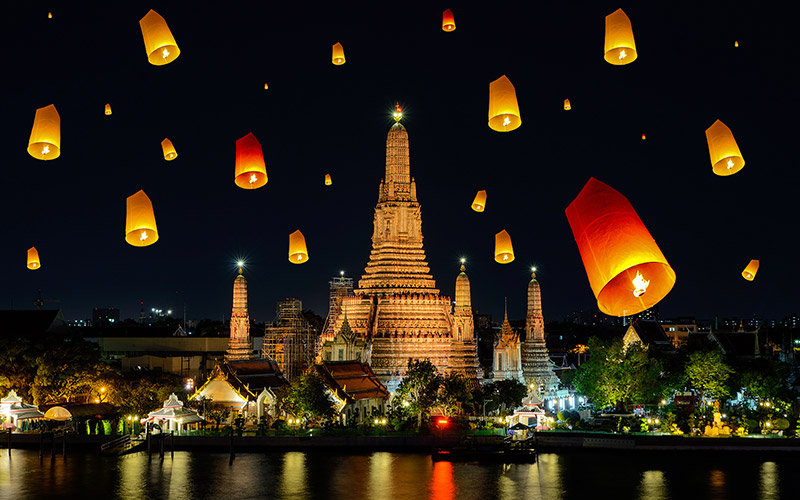 This tropical Southeast Asian country is a traveller's dream. There's everything from the white sandy beaches of Krabi and Phuket, to the thick jungle of KhaoSok National Park or Chiang Mai, and the party lifestyles of Bangkok and Samui. And a visit to Thailand wouldn't be complete without checking out the temples or trying some of the flavour-packed local dishes.
Thailand has been for centuries an attraction for travellers looking for cheap holidays. In recent years, there was a huge shift and Thailand has become a synonym for romance. Main reason for this shift is due to the abundance of affordable luxurious resorts that have been built in the last decade. Large rooms/suites with all the modern amenities have become a standard in Thailand. Some resorts are located on the public beach or have their own private beach.
Main areas to visit are Bangkok (capital city), KohSamui and Phuket.
Bangkok is usually used as a top-over destination on your way to one of the islands. Bangkok is an extremely busy city, with a population of over 8.5 million people. It offers extremely affordable custom made clothing, at one of many tailors. There are some great shopping centres, as well as handmade jewellery. The stop in Bangkok would not be complete without the visiting to one of its many temples.
KohSamui is a large island located in the Gulf of Siam. It offers stunning beaches and the islanditself is covered with coconut trees and soft, rolling hills. From the hustle and bustle of Chaweng Beach to the relaxed atmosphere of Lamai Beach to the timeless feel of Bophut's Fisherman's Village, KohSamui is unique among Thailand's islands in maintaining a broad appeal for everyone. This helps to give the distinctive relaxed atmosphere that sets it apart. Flight to KohSamui is only one hour from Bangkok.
Phuket on the other hand is the main tourist attraction in the country and its main beach is Patong Beach. Honeymooners usually steer clear of the main beach and usually decide to stay around Karon and Kata Beaches. Spectacular scenery, dazzling beaches, stunning sunsets and warm blue lagoons await you in Phuket.  Phuket is a fun island that provides unbeatable combination of perfect palm-lined beaches, superb hospitality and great value accommodation. You can also take an  an invigorating speedboat trip to the surrounding islands, such as Phi Phi Island or enjoy a serene cruise to mystical PhangNga Bay. If you prefer to just stay on land, Phuket offers the largest number of bars, restaurants and shopping centres/markets. Flight to Phuket is around one hour and twenty minutes from Bangkok.
Thailand's weather is hot and humid and they have wetter and drier times of year. The monsoon season or rainy season runs from June to October, and as such this period is known as the low season. Conversely, November through to May (dry season) is the most popular time to travel to Thailand.
With at least one daily flight to Bangkok from every major Australian city, visiting a country where you can literally have it all is a must!