24 Jun

Maldives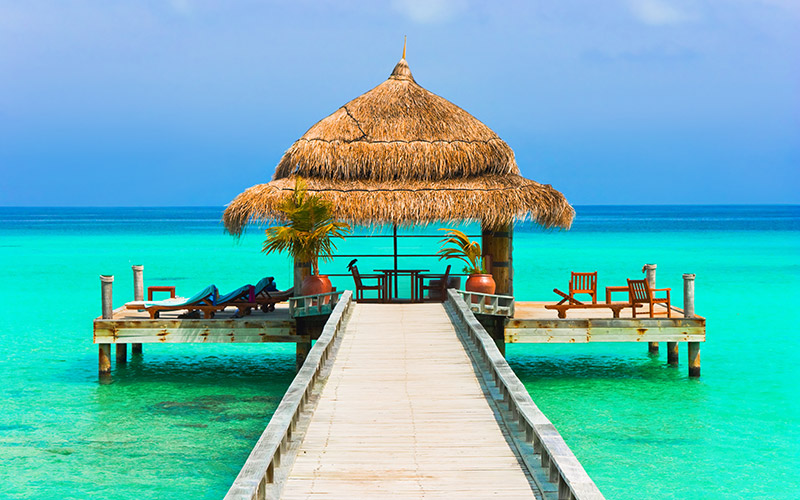 Welcome to the Maldives, where sand isas white as the smiles of the locals, where fish swim happily in the warm waters of the Indian Ocean, where the weather is a dream, and the deep rays of the sun wait to hug you.
Palm trees swaying on one of the 1,200 islands of the Indian Ocean, turquoise lagoons, and white sandy beaches, warm water surrounded by coral reefs – this tropical paradise is Maldives.
Republic of Maldives is located in Indian Ocean, very close to Sri Lanka. As the country consists of many islands, the main means of transfer is by a boat. As islands are quite small (some are only around 200m long), usually only one resort is built per island, making accommodation very secluded, private and romantic. There are hundreds of resorts to choose from, all of which will have the world famous Overwater Bungalows! All the resorts have beautiful white sandy beaches surrounded by house coral reefs. Each resort will offer its own charm, character and ambience.
Cuisine in Maldives is a combination of Indian, Sri Lankan, African, Asian and European flavours. Fresh produce is delivered to each resort on daily basis or the resort might have their own organic gardens. As Maldives is an island destination, it will come as no surprise that fresh seafood features heavily on menus daily.
Maldives is not the best shopping destination. Main reason for this is that you can only shop on the main island called Male (this is where the airport is located). As getting in and out of Male can be quite complicated and expensive from the resort, not a lot of people do experience shops in Maldives. However, if you manage to get to Male from your resort, make sure you visit the main road MajeedheeMagu, where you can buy anything from souvenirs to clothing, cosmetics and electronics.
Since average year round air temperature is 28C, Maldives really is a perfect tropical destination! Maldives, being a tropical destination, is quite humid throughout the year. Summer season is between November – April and almost every day in sunny. Months between May – October get a mixture of sunshine and tropical showers (winter season).
Diving and snorkelling is among best in the world with private house reefs. Whether you are after deep sea diving or prefer shallow lagoon, there will be a reef to suit your taste.
Magical island paradise of Maldives is a perfect destination to start your everlasting memories!